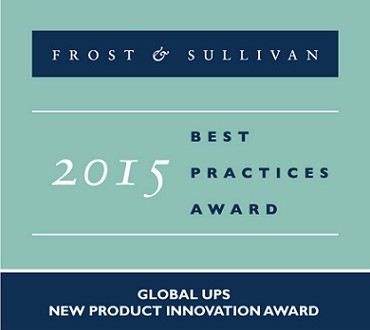 Frost & Sullivan Lauds Riello UPS for Addressing the Evolving Demands of a Densely Networked
The Riello UPS MULTI POWER (MPW) is loaded with a comprehensive set of features and functionalities, such as multiple controls, flexible modularity, advanced communications and unmatched power density
MOUNTAIN VIEW, Calif., Jan.  13, 2016 — Based on its recent analysis of the UPS industry, Frost & Sullivan recognizes Riello UPS with the "2015 Global Frost & Sullivan Award for New Product Innovation". Riello UPS has, yet again, proven its ability to innovate with the launch of its Multi Power (MPW) UPS, setting a new standard in the modular UPS solutions market. This solution optimizes both the initial investment and the total cost of ownership by growing along with the demands of the business, while preventing customers from oversizing the UPS unnecessarily.
Riello UPS's MPW is a modular UPS designed to protect critical high-density computers and IT environments. It comes with three different cabinet frames to ensure flexible modularity, allowing the end user to easily boost power, redundancy level and battery autonomy.
The MPW allows the UPS power and redundancy level to expand vertically from 42 kW to 294 kW in a single power cabinet. Likewise, the power capacity can be horizontally scaled up from 294 kW up to 1176 kW by connecting up to four power cabinets in parallel. The battery cabinet is designed to house up to 36 units within a single frame, with a maximum of 10 cabinets connected in parallel.
"The power cabinets feature two separate microprocessors performing distinct duties of regulating the overall UPS operations and managing end-user communication," said Frost & Sullivan Senior Industry Analyst Gautham Gnanajothi. "In addition to these, it employs three dedicated communication buses to manage and transmit the data, and up to four temperature sensors are embedded within the power cabinet to enable constant and efficient operation."
Acknowledging the rising popularity of modular UPS systems and the increasing intensity of competition, Riello UPS is focusing on two key areas of innovation—reliability and performance. The MPW employs advanced and cutting-edge technologies, thus delivering the highest level of performance in terms of compactness, efficiency, input power factor and harmonic impact on the supply source.
The MPW is designed to offer full-rated power, especially for unity power factor loads such as the latest server generation applications. It is able to achieve this without any power downgrading, even when operating at temperatures up to 40°C. It guarantees system efficiencies of more than 96.5 percent while operating in on-line double-conversion mode, and an efficiency of over 95 percent even at 20 percent loads, ensuring extremely low losses.
The MPW has also significantly minimized the upstream power source rating requirement by reducing the input harmonic pollution. Furthermore, Riello UPS has effectively addressed the issue of failures due to miscommunication between the component parts of the system by doing away with the traditional method of controlling the power modules through one unique microprocessor. Instead, it employs multi-microprocessors and assigns specific functions to each.
MPW's advanced communication system features a 7-inch LCD touch screen, communication slots, and relay cards with dedicated service ports. The communication controls are uniquely designed and tailored for specific access levels inside the user's organization. In addition, its communication system can be easily integrated with building energy management systems (BEMS) and data center infrastructure management systems (DCIM).
"Riello UPS has worked in close collaboration with component manufacturers to tailor-make major power components and assemblies within the MPW," noted Gautham. "Besides, it employs a unique 'wireless power principle,' wherein it shortens the power interconnection distances between the cards, power components and connectors, thereby reducing connection issues between assemblies."
MPW's extensive suit of features not only ensures easy UPS expansion and optimum operation, but also simplifies maintenance as well as minimizes downtime and the mean time between failure and mean time to repair.
"Riello UPS has done a remarkably good job of understanding customer needs in the UPS industry and developing an innovative new product to address those needs. Its multi-power (MPW) UPS is uniquely positioned for sustained success because it addresses the core issues that customers care about—flexibility, functionality and ROI," said Frost & Sullivan's Global President and Managing Partner Krishna Srinivasan.
Read the Press info here
More about Multi Power here